Published on: November 13, 2023
Written by Evander Mac / Fact-checked by Jamal Haider
The best seats at Soldier Field for a concert are typically located in the lower level sections, close to the stage, offering an unobstructed view of the performers.
Soldier Field, renowned for its iconic architecture and rich history, is a prime venue for concerts. The seating arrangement is designed to provide an optimal viewing experience for every attendee. Many concert-goers often turn to online platforms, like Reddit, to share their experiences and recommendations about the best spots. The seating chart of Soldier Field is a helpful tool for attendees to choose their preferred location. It provides a visual representation of the entire stadium, including specific seat numbers. The interactive version of this chart allows users to get a virtual view from different sections, aiding in making an informed choice.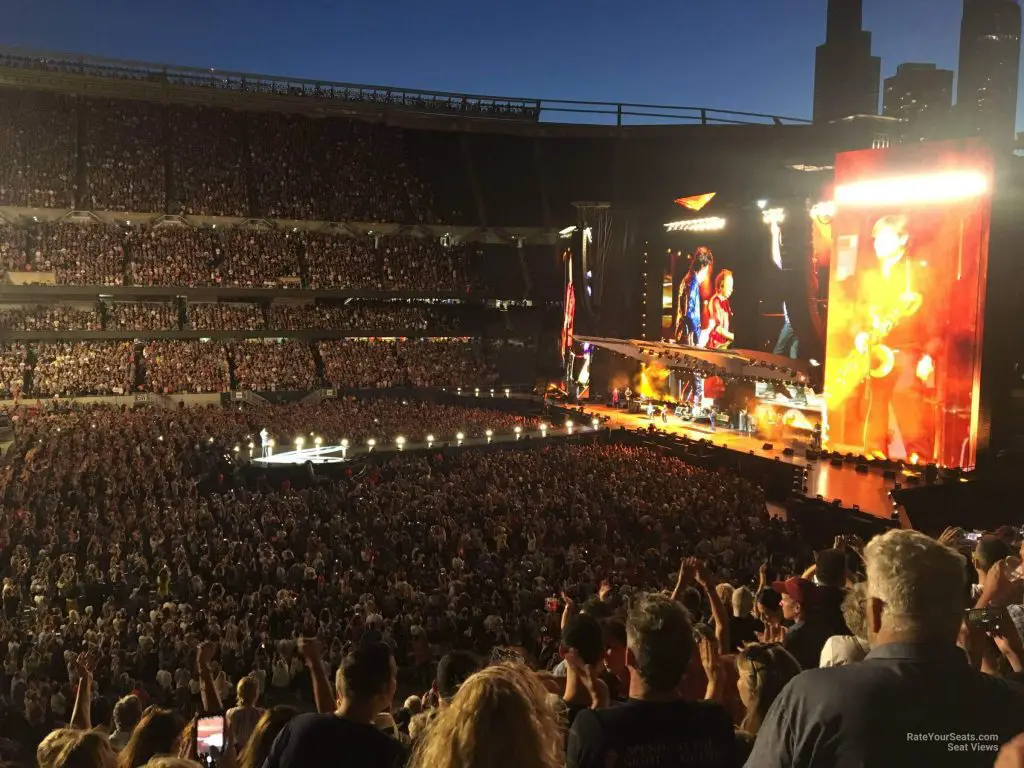 For soccer enthusiasts, the best seats differ slightly. Seats closer to the midfield offer a balanced view of the entire pitch. With a vast seating capacity, Soldier Field can accommodate a large number of attendees for concerts. To get a precise count of available seats for a specific event, it's advised to refer to the event-specific seating chart.
For a more in-depth look at seating options and views, we invite you to read the detailed article below.
At a Glance The Soldier Field
Address: 1410 Special Olympics Dr, Chicago, IL 60605, United States
Phone: +1 312-235-7000
Capacity: 61,500
Teams: Chicago Bears, Chicago Fire FC
Opened: October 9, 1924
Owner: Burnham Park
Architects: Carlos Zapata, Benjamin T. Wood, Dirk Lohan
Height: 46 m
Website: Official website
Overview of Soldier Field
Soldier Field stands as a testament to time, having witnessed countless events since its inception. This iconic stadium, nestled in the heart of Chicago, has a rich tapestry of history that intertwines with the city's own narrative. With its vast capacity and intricate layout, it's no wonder that it's a top choice for many concert organizers. The design of the stadium ensures that every attendee, regardless of where they're seated, gets a memorable experience. But, of course, some seats offer a more enhanced experience than others.
Brief History and Significance of Soldier Field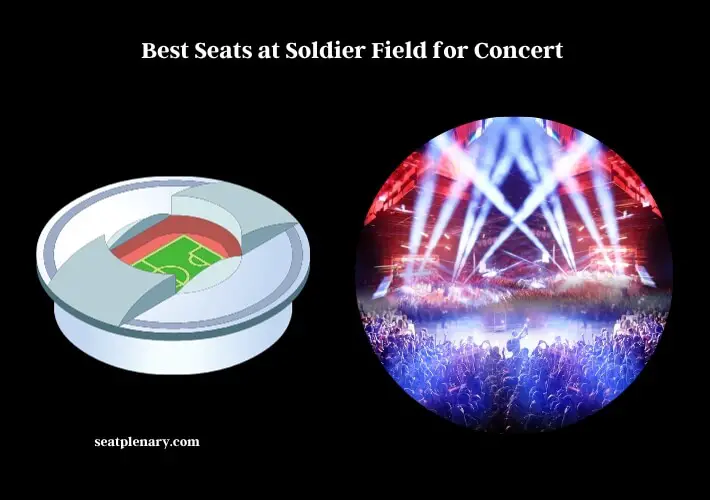 Originally built in the 1920s, Soldier Field has undergone numerous renovations to keep up with modern standards. It's not just a stadium; it's a landmark. Over the years, it has hosted a plethora of events, from sports to concerts, making it a versatile venue. Its name pays homage to the soldiers who have served, adding a layer of reverence to its stature.
Overview of the Stadium's Capacity and Layout
The stadium can house over 60,000 spectators, making it one of the largest in the country. Its layout is thoughtfully designed, ensuring clear sightlines from almost every angle. The stadium is divided into various sections, each offering a unique vantage point.
Analyzing Seating Options
Lower Level Seating
The lower level sections are the closest to the stage, providing an immersive experience. Being up close and personal with the performers is a thrill many seek. These seats are often the first to get booked, given their prime location. They offer a clear, unobstructed view of the stage, making every moment count. While they might be on the pricier side, the experience they offer is unparalleled.
Club and Suite Level Seating
For those looking for a touch of luxury, the club and suite level seats are the way to go. These sections come with added amenities, from exclusive lounges to gourmet food options. The view from these seats is panoramic, offering a bird's eye view of the entire concert. They're perfect for those who don't want to compromise on comfort while enjoying their favorite tunes.
Upper Level Seating
The upper level seats provide a broader perspective of the concert. While they're farther from the stage, they offer a unique vantage point, allowing attendees to take in the entire spectacle. These seats are generally more affordable, making them a popular choice for many. They're especially great for large groups or families.
Visual Aids for Seat Selection
Interactive Seating Charts
Interactive seating charts have revolutionized the way we choose our seats. These digital tools allow users to virtually "sit" in a seat and see the view they'd get during the concert. It's a fantastic way to ensure you're making the right choice. Several platforms offer this feature, making seat selection a breeze.
Data-Driven Insights
Comparison of Views and Prices Across Different Sections
| | | |
| --- | --- | --- |
| Section | Average Price | View Quality |
| Lower Level | $250 | Excellent |
| Club Level | $400 | Panoramic |
| Upper Level | $150 | Broad |
Comparison of Views and Prices Across Different Sections
Accessibility Features Across Various Sections
| | | |
| --- | --- | --- |
| Section | Wheelchair Accessible | Hearing Assisted Devices |
| Lower Level | Yes | Yes |
| Club Level | Yes | No |
| Upper Level | No | Yes |
Accessibility Features Across Various Sections
Audience Experiences and Recommendations
Feedback is gold. Over the years, many concert-goers have shared their experiences, shedding light on the best spots in Soldier Field. While online forums are flooded with opinions, it's essential to sift through and find the most consistent recommendations. Many attendees swear by the lower level, while others vouch for the club level's luxury. It's all about what you're looking for in your concert experience.
Comparative Analysis for Different Events
Concerts vs Soccer Matches
Choosing seats for a concert is different from selecting them for a soccer match. For concerts, proximity to the stage is often preferred. But for soccer, seats around the midfield offer a balanced view of the action.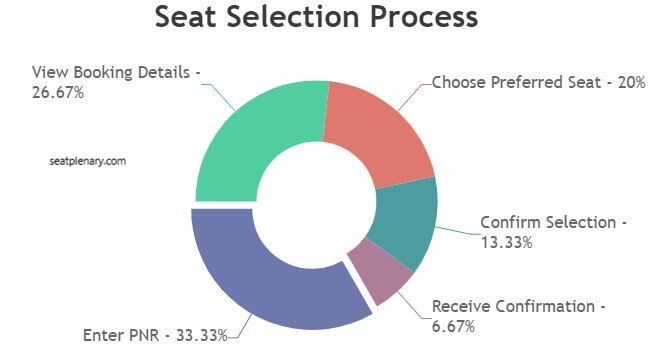 What is the Best Zone Seating Area for Concert Experiences in a Theater?
The benefits of zone seating in a theater are abundant, especially when it comes to concert experiences. The best zone seating area depends on personal preferences. For avid concert-goers who thrive on being close to the stage, the front zone guarantees an up-close and immersive experience. On the other hand, those looking for a more balanced audio experience may prefer the middle zone. Lastly, the back zone offers a wider view of the stage, allowing attendees to take in the entire production. Ultimately, the best zone seating area is subjective and varies depending on the individual's desired concert experience.
Seating for Large vs Small Concerts
The size of the concert can influence seat preferences. For more intimate concerts, every seat can offer a close experience. But for larger concerts, where the stage setups are grand, being too close might mean missing out on some visual elements.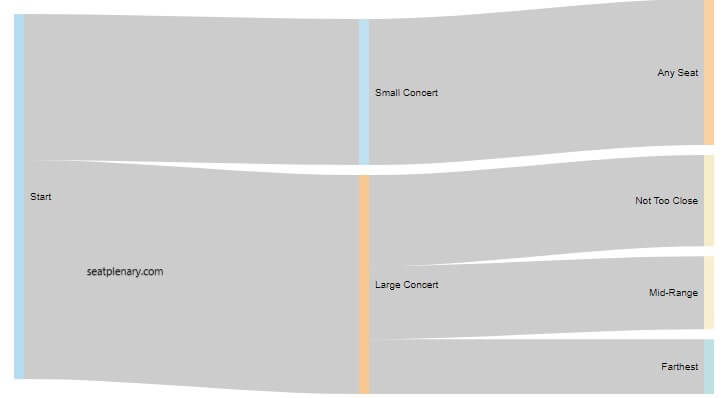 Accessibility and Special Considerations
Soldier Field prides itself on being inclusive. The stadium offers various accessible seating options, ensuring everyone can enjoy the event. From wheelchair-accessible spots to hearing-assisted devices, they've got it all covered. It's always a good idea to check in advance and book these seats, ensuring a hassle-free experience.
Soldier Field, with its vast expanse and thoughtful design, offers a range of seating options to cater to every concert-goer's preference. Whether you're looking for an up-close experience, a touch of luxury, or a broad view, there's something for everyone. The key is to make an informed choice, considering factors like price, view, and accessibility. With the right seat, your concert experience can go from good to unforgettable.
Relevant Resources: